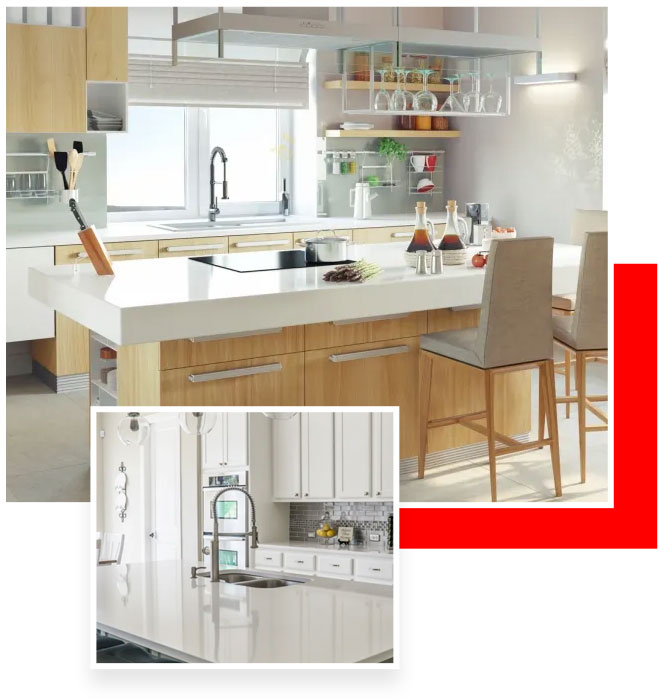 Stone Express Inc. specializes in custom kitchen, bathroom, and home finishings
Stone Express Inc. was founded in 2005, and since its inception, the company has carved a niche for itself, offering some of the best kitchen countertops and bathroom vanity tops, among other products.
With a team that has years of experience, skills, and extensive knowledge of the various materials we use, our company is undoubtedly one of the most reliable in the business.
We're committed to bringing you the highest-quality services and products
Whether you're looking for kitchen or bathroom finishings, or you want to spruce up different areas of your commercial or residential property, we can do it all.
We use the highest-quality materials for our products, including quartz, marble, and granite, guaranteeing a splendid finish, long-lasting results, and a beautiful home. We strive for better quality at all times, ensuring that our clients never get less than the best for their spaces.
Transform your commercial and residential properties with our help
At Stone Express, we believe in providing quality work at highly-competitive rates, and getting the job done quickly, so your home is ready to go in no time. We work with both residential clients as well as builders, retail clients, and others who may need our services.
Drop by our showroom to see everything that we have in stock for you!
Transform Your Home with Our Help!
Learn more about the incredible ways we can help you transform your spaces through high-quality products and services by reaching out to us.
Enjoy Customized Finishings for Your Property
At Stone Express Inc., we work with premium quality materials, especially quartz, to bring you finishings that make your space look and feel more sophisticated and beautiful.
We do everything from kitchen countertops and bathroom vanity tops to pool copings, staircases, thresholds, curbs, and much more.
You can choose from a selection of thousands of colors and materials to pick what speaks to your personal style or brand image the most!
Timeless, Beautifully Designed Products
Seeing as how we use the finest quality materials for our services, you can expect them to last you for decades.
It's one of the biggest investments you can make into your commercial or residential space, boosting property value, improving aesthetics, and increasing functionality by a mile.
Our products come in some of the most gorgeous colors, designs, and patterns, giving you some classic, timeless options to choose from for your home or business.
Perfect Finishings for Every Surface
Our team will provide you with the most detailed consultations and recommendations for products and finishings.
Visit our showroom to see the thousands of options we have in stock, and choose the ones that fit best with your interior preferences, style, and aesthetic sensibility.
Whether you're looking to invest in new countertops, staircases, or shower walls, we've got something to meet your needs.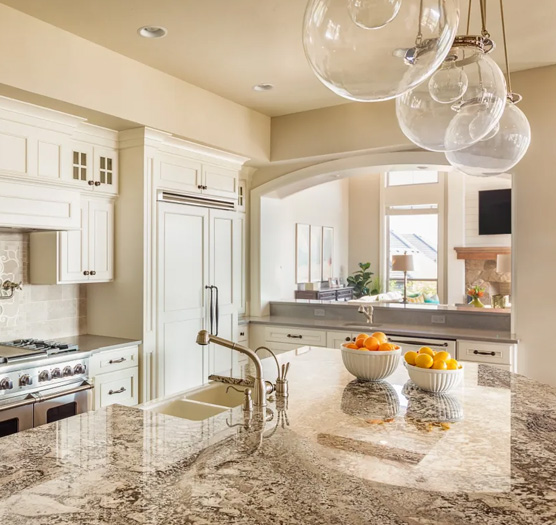 Add Value and Sophistication to Your Home with Luxury Finishings
Luxury finishings don't need to drain your bank account; when you work with us, you're guaranteed to enjoy highly competitive pricing, excellent services, and high-quality, long-lasting products that look and feel new for years to come. Add a touch of sophistication to your spaces with our help today!

Cancos Tile MShop
Happy Customer
What a joy to work with such a great company! We have worked with them for years. Steve and his team are consistently reliable and attentive.

George Figueroa
Happy Customer
Use them for all my stone shipping needs across all over the country
Get Premium Quality Quartz, Granite, and Marble Countertop Fabrication and Installation with Stone Express.
We strive to follow a constant stream of communication with our customers until they are satisfied.
For any queries about our services or estimates, feel free to contact us.
We're here for all your countertop needs in Naples.
Monday ­­– Friday: 7.45 am to 4.00 pm
Saturday: By appointment
Sunday: Closed
To schedule an Estimate Call with us, fill out the form below or dial: 239-213-0555