Countertops in Cape Coral
Upgrade and remodel your Cape Coral, FL house using Stone Express Inc.'s products
Stone Express Inc. is helping homeowners across Cape Coral, FL, get top-quality, beautifully designed, long-lasting granite, marble, and quartz products. In addition to interior stoneware such as bathroom and shower slabs, kitchen countertops, and backsplashes, we also have exterior stoneware products, such as flooring and pool copings.
Transform your residential property, and boost its property value significantly by installing our products throughout your home. Our beautifully designed countertops and slabs are some of the most functional, aesthetically pleasing, and simultaneously low-maintenance additions you can make to your home.
We are offering a varied range of granite, quartz, or marble products as well as other materials, and you can get customized styles, designs, and other details to get the right look. If you're looking to give your home a serious facelift while investing in something that is worth every penny, there's nothing better than stoneware to complete that look.
Stone Express Inc. is your one-stop shop for high-quality quartz, granite, and marble products in Cape Coral, FL. Visit our showroom, or get an estimate through our website and get started today. You can also schedule a consultation with our team, and we'll be happy to work with other contractors to get the perfect product for your home.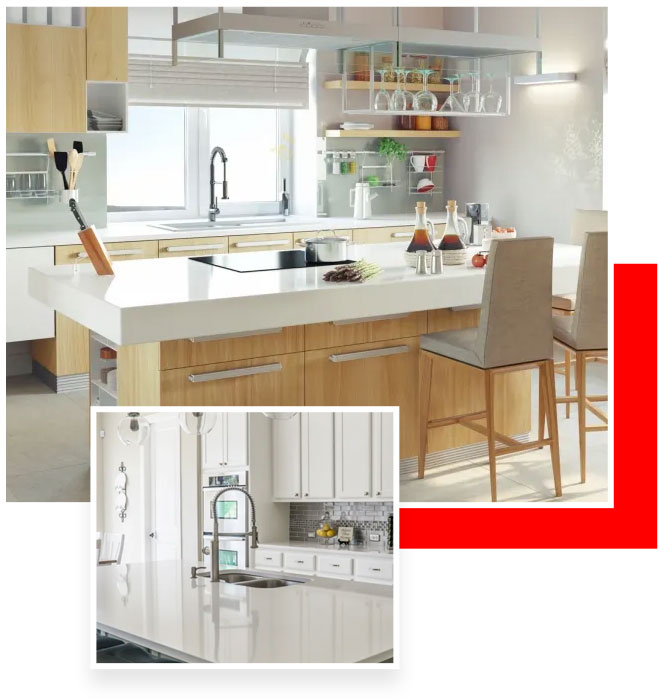 Transform Your Home with Our Help!
Learn more about the incredible ways we can help you transform your spaces through high-quality products and services by reaching out to us.
Choose from marble, granite, and quartz stoneware for your commercial property in Cape Coral, FL
Stone Express Inc. is here to serve commercial ventures and businesses across Cape Coral, FL through our range of quartz marble and granite products. We make flooring, countertops, backsplashes, bathroom installations, and other accessories for commercial spaces using our high-quality materials while also allowing you to customize finishings, colors, and other details. With a focus on quality and appearance, stoneware is known for its strength, longevity, and easy maintenance.
We help commercial businesses, including hotels, restaurants, corporate offices, and residential apartments, to impress clients, investors, guests, and other stakeholders to generate business.
Using our interior and exterior stoneware accessories, you can improve your commercial bathrooms, kitchens, pools, and flooring, and our team will work with your designers, architects, and other contractors to create the perfect look for your commercial property in Cape Coral, FL.  
Head to our web page to get an estimate online, or visit our showroom in Cape Coral, FL, to see the complete variety of options we're offering you and get a closer idea of the options you have.
Add Value and Sophistication to Your Home with Luxury Finishings
Luxury finishings don't need to drain your bank account; when you work with us, you're guaranteed to enjoy highly competitive pricing, excellent services, and high-quality, long-lasting products that look and feel new for years to come. Add a touch of sophistication to your spaces with our help today!

Cancos Tile MShop
Happy Customer
What a joy to work with such a great company! We have worked with them for years. Steve and his team are consistently reliable and attentive.

George Figueroa
Happy Customer
Use them for all my stone shipping needs across all over the country
Get Premium Quality Quartz, Granite, and Marble Countertop Fabrication and Installation with Stone Express.
We strive to follow a constant stream of communication with our customers until they are satisfied.
For any queries about our services or estimates, feel free to contact us.
We're here for all your countertop needs in Naples.
Monday ­­– Friday: 7.45 am to 4.00 pm
Saturday: By appointment
Sunday: Closed
To schedule an Estimate Call with us, fill out the form below or dial: 239-213-0555