Stone Express Inc. has some of the best stoneware products for homeowners in Everglades, FL
Stone Express Inc. offers residential clients in the Everglades, FL, get top-quality, beautifully designed granite, marble, and quartz products. We offer exterior and interior stoneware such as bathroom and shower slabs, kitchen countertops, backsplashes, flooring, and pool copings that have been made using the best raw material in the market.
You can upgrade your residential property to increase its value and aesthetic appeal through the addition of our stoneware products to your exteriors and interiors. Stoneware fittings are more than just beautiful; they're also highly functional, low-maintenance, and will last you for several years with proper maintenance and care.
Our company is committed to bringing you the most extensive options for styles, designs, and finishings for our selection of granite, quartz, or marble products. We aim to ensure that you're getting the highest quality, the greatest variety, and complete control over your spending when choosing our selection.
Stone Express Inc. is committed to bringing you the best quartz, granite, and marble products in Everglades, FL. You can head to our showroom to take a look at our complete collection of stoneware, or get an estimate through our website. Our team will meet with you to design customized fittings for your space.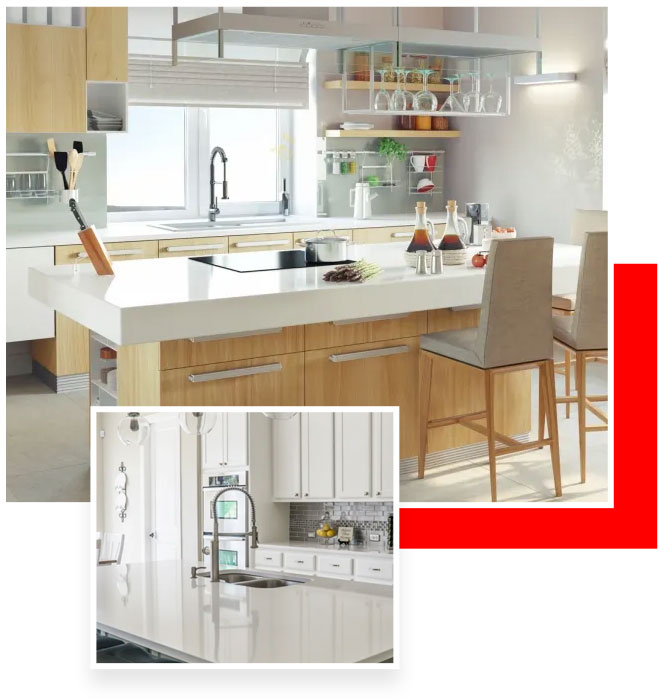 Transform Your Home with Our Help!
Learn more about the incredible ways we can help you transform your spaces through high-quality products and services by reaching out to us.
Upgrade your commercial property in Everglades, FL with marble, granite, and quartz fittings
Stone Express Inc. has extensive experience serving commercial clients and businesses across Everglades, FL, providing them with top-of-the-line quartz, marble, and granite products and fittings for their properties.  
We make commercial-grade stoneware flooring, countertops, backsplashes, bathroom installations, and other accessories, sourcing the best materials while also allowing you to customize finishings, colors, and other details. Whether you opt for marble, quartz, or granite, you can rest assured that you will be making a long-term investment because stoneware is known for its strength, longevity, and beauty, giving your commercial space a contemporary upgrade.
Transform the exteriors and interiors around your commercial property, whether it's a hotel, restaurant, corporate office, and residential apartment building, focusing on bathrooms, kitchens, pools, flooring, and other areas. We're happy to collaborate with your team of designers, architects, and other contractors to ensure that your commercial property in Everglades, FL looks exactly how you need it to.
You can get an estimate online through our website, set up an appointment with our team, or visit our showroom in Everglades, FL to get a better look at all the options we're offering you.
Add Value and Sophistication to Your Home with Luxury Finishings
Luxury finishings don't need to drain your bank account; when you work with us, you're guaranteed to enjoy highly competitive pricing, excellent services, and high-quality, long-lasting products that look and feel new for years to come. Add a touch of sophistication to your spaces with our help today!

Cancos Tile MShop
Happy Customer
What a joy to work with such a great company! We have worked with them for years. Steve and his team are consistently reliable and attentive.

George Figueroa
Happy Customer
Use them for all my stone shipping needs across all over the country
Get Premium Quality Quartz, Granite, and Marble Countertop Fabrication and Installation with Stone Express.
We strive to follow a constant stream of communication with our customers until they are satisfied.
For any queries about our services or estimates, feel free to contact us.
We're here for all your countertop needs in Naples.
Monday ­­– Friday: 7.45 am to 4.00 pm
Saturday: By appointment
Sunday: Closed
To schedule an Estimate Call with us, fill out the form below or dial: 239-213-0555