Get World-Class Marble Countertops For Your Home
The right countertop can make or break the look of your home. That's why we're here to help you find the perfect one for your kitchen, bathroom, or any other room in the house!
When choosing the right countertop for your home, it's important to consider more than just the aesthetics. You want a countertop that will support your lifestyle and make everyday tasks easier—and we've got just what you need! Find out more about our excellent marble countertops.
Don't want to be replacing low-quality countertops every few months? Consider getting your hands on our durable marble countertops.
Our marble countertops are scratch and crack-resistant, making them a perfect option for your house.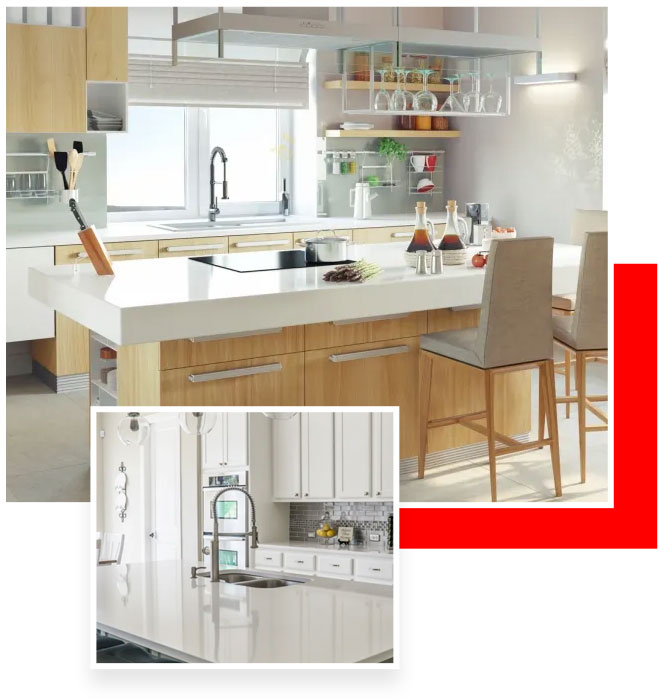 Marble countertops are an excellent way to add style and elegance to your home. They can go with any home decor and can help you boost your home's value.
At Stone Express Inc., we understand that every client has unique requirements. This is why we provide marble countertops. There's something here for everyone, from plain white to dark gray marble.
Tailor-Made Marble Countertops
Need a customized marble countertop? You've come to the right place! Stone Express Inc. offers tailor-made marble countertops to help clients give their houses a fresh look.
Marble countertops require minimal maintenance, so they'll last you for years to come.
With minimal cleaning, you can make it look shiny and catch the attention of your guests at your upcoming house party.
Our products are affordable. So whether you're looking for something small enough to fit in an existing cabinet or large enough to add some flair to an entire room, we've got what you're looking for.

Cancos Tile MShop
Happy Customer
What a joy to work with such a great company! We have worked with them for years. Steve and his team are consistently reliable and attentive.

George Figueroa
Happy Customer
Use them for all my stone shipping needs across all over the country
Get Premium Quality Quartz, Granite, and Marble Countertop Fabrication and Installation with Stone Express.
We strive to follow a constant stream of communication with our customers until they are satisfied.
For any queries about our services or estimates, feel free to contact us.
We're here for all your countertop needs in Naples.
Monday ­­– Friday: 7.45 am to 4.00 pm
Saturday: By appointment
Sunday: Closed
To schedule an Estimate Call with us, fill out the form below or dial: 239-213-0555