If done right, small kitchens can end up being the best feature of your home. Your small kitchen can turn into the hidden treasure of your home with the right countertops to make it functional and appealing. They are designed to withstand a lot of movement and heavy equipment and blend seamlessly into your kitchen's design.
Whether your small kitchen has a narrow style or it is like one of those eat-in ones, reconfiguring the layout of the countertop can make a huge difference in the overall functionality and vibe of your kitchen. While simplicity is the best way to achieve a cohesive and well-designed space, you can play with colors and have fun here and there to make the most of your small area.
Here's a comprehensive guide to some countertop ideas for small kitchens.
Quartz Countertops
In a small kitchen, every inch of space counts. You need to work on the size of your quartz countertop to make it fit in and look seamless. It can be customized to give a more uniform look. It will give your small kitchen a more even and consistent outlook.
Plus, it is available in a wide variety of colors and designs, which gives you a plethora of options to choose from. What's more, they are priced moderately, which makes them an ideal choice for small kitchen owners.
Wooden Countertops
Since the kitchen is the heart of the home, you can rely on the good old classic wood option for your design. For instance, if you have an open kitchen, wooden countertops will work great with the rest of your home design. It's a great option for those who love the idea of a minimalistic yet modish kitchen.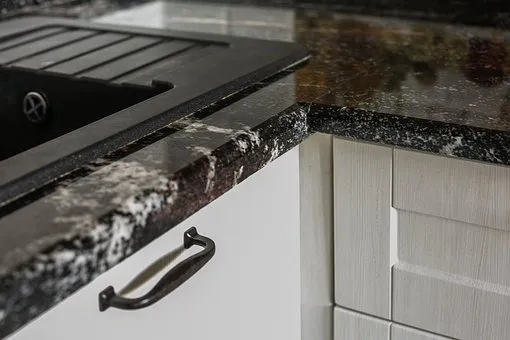 Final Thoughts
In addition to the material of the countertops, there are various other things you need to consider. Whether it's the size that best works for your kitchen or the color that will make your small kitchen look more spacious, all the elements need to be accounted for before you decide.
Try to strike a balance, whether it's the tile or the colors you choose. You will have a small space and too many ideas. Try not to input all your ideas in the small space. You can save the rest for other rooms. Do only what works for your kitchen.
Best Countertops for Your Small kitchen in Naples, FL 
At Stone Express Inc., we provide a diverse variety of kitchen and bathroom countertop materials to help you improve the value of your home.
We also specialize in quality installations to give your kitchen a quality finish. Our kitchen countertops look visually appealing and provide functionality for a comfortable cooking experience.
If you're looking for marble countertop Naples, quartz countertops Naples, or granite countertops, get in touch with us today. Call us at (239) 213-0555 to learn more.