Often viewed as an innovative solution to household harmony, the Jack and Jill bathroom is ideal for sharing bathroom ideas, especially when aiming for maximum efficiency.
Whether amid a countertop installation or selecting custom countertops, here are five creative ideas to give your shared bathroom the perfect blend of style and functionality.
A Journey to the Perfect Jack and Jill Bathroom: 5 Unique Ideas
Named after the eponymous characters in the old English nursery rhyme, Jack and Jill's bathrooms traditionally connect two separate bedrooms, allowing occupants easy access while maintaining privacy.
Now, without further ado, let's explore five creative ideas that can help you craft the perfect Jack and Jill bathroom. Each suggestion balances style, functionality, and individual needs, creating a unified shared bathroom experience.
1.    Two-in-One Vanity
A double vanity provides ample space for two users, but introducing a two-in-one vanity can add a unique twist to your bathroom.
This clever design involves a seamless countertop installation featuring a large basin with two faucets. It's a distinctive yet practical way to ensure personal space, all while maintaining a streamlined, unified aesthetic.
2.    Utilize Pocket Doors
Regarding spatial efficiency, consider replacing regular swing doors with pocket doors. These ingenious doors slide and disappear into the wall when fully open, liberating valuable floor space.
Not only do they enhance mobility within the bathroom, but they also contribute to a more expansive, open feel.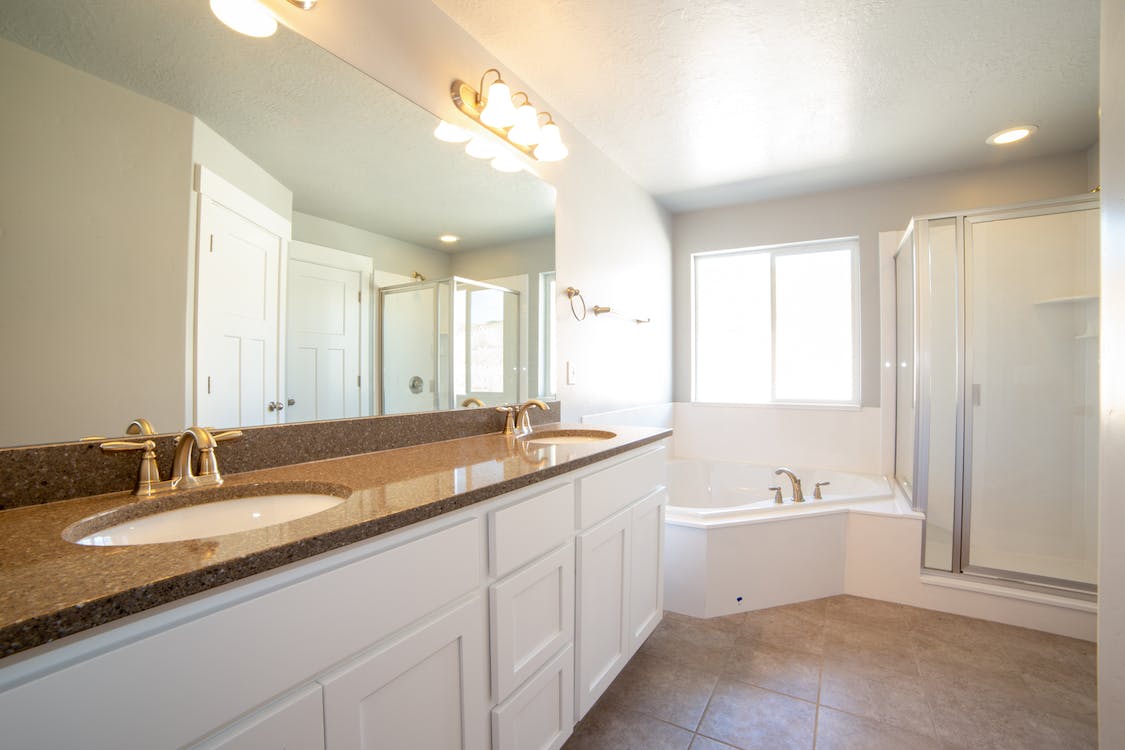 3.    Individual Storage Solutions
A pivotal aspect of our sharing bathroom ideas involves implementing individual storage solutions. By providing each user with their own set of drawers or shelves beneath the custom countertops, you maintain personal spaces within the shared setting.
This arrangement neatly tucks away personal items, mitigating clutter and minimizing potential mix-ups.
4.    Feature a Statement Wall
Don't just think of your Jack and Jill bathroom as a functional space – make it a place of inspiration by featuring a statement wall.
Opt for unique tiles for an accent wall, or go all out with a custom-painted mural. The latter can infuse the room with character and personal style, making each visit a unique experience.
5.    Maximize Light
Lighting plays a pivotal role in the overall ambiance of a bathroom. By installing larger windows or skylights, you can bask in the benefits of abundant natural light.
In terms of artificial lighting, consider encircling mirrors with lights and installing dimmable overhead lights. This provides a diverse lighting palette, facilitating anything from functional lighting for personal grooming to softer lighting for a relaxing soak in the tub.
These five sharing bathroom ideas aim to provide a harmonious environment while ensuring personal space. The key is to make thoughtful choices from countertop installation to storage solutions, keeping in mind the needs and preferences of the users.
Wrapping Up Your Jack and Jill Journey: Unlock Your Dream Bathroom with Stone Express Inc.
A Jack and Jill bathroom, with the right planning and execution, can be a haven of efficiency, personal space, and style. From the initial stages of selecting the perfect Custom Countertops Naples to the final touches that add personality, every step counts.
Whether planning a complete remodel or simply looking to share bathroom ideas to improve your current setup, Stone Express Inc. is here to make your dream bathroom a reality.
We provide professional advice and services tailored to your needs, from Countertop Contractor Naples to comprehensive bathroom solutions. Don't hesitate to call us today, and let's bring your Jack and Jill bathroom vision to life!