If you're considering replacing your kitchen's outdated marble countertops with a new set of granite ones, you'll want to prepare your space carefully. Proper preparation is essential to avoiding unsightly damage to your walls and cabinets when you remove the old countertops and install the new granite.
We'd recommend homeowners hire a team of professionals to perform all of the work required to install your new granite countertops so that you can sit back and relax while they take care of the job for you.
Here we'll explain how to prepare your kitchen for remodeling from start to finish so that everything goes smoothly. Read on!
Plan and Schedule the Project Ahead of Time
Before you can begin any remodeling project, you'll need to schedule the work ahead of time to ensure that everything goes off without a hitch. Remember that most home improvement projects can take anywhere from a few days to a few weeks to complete, depending on the type of materials and fixtures you're using and the work to be done.
Start by making a list of the things you'll need to get done before the project begins. Include everything from ordering new countertops to installing the new cabinets and hardware so that the workers have all the materials they need to get the job done right.
Selecting and Finalizing the Order
Once you've selected your new granite countertop and gotten the materials you need for the project, it's time to call in the professionals to measure the area where you'll be installing the countertops. They'll determine the size and shape of the pieces you need and how much material you'll require to complete the project.
When the measurements are finalized, they can order the slabs and start the manufacturing process, which usually takes a few weeks, depending on the amount of lead time needed to prepare the slabs.
Creating a Template
After you've finalized the orders for your slabs, you can arrange for a templating company to come to your home to measure the size of your countertop space and create a new template for each counter using specialized computer software. This step is necessary to ensure that all new pieces are cut to the proper size and fit perfectly in the space where they're being installed.
Making Space for the New Countertops
Finally, you have to make room for the new kitchen countertops. Start by moving all of your appliances and cabinets out of the way. This will provide plenty of space for the new countertops. Once this is done, you can install the granite countertops.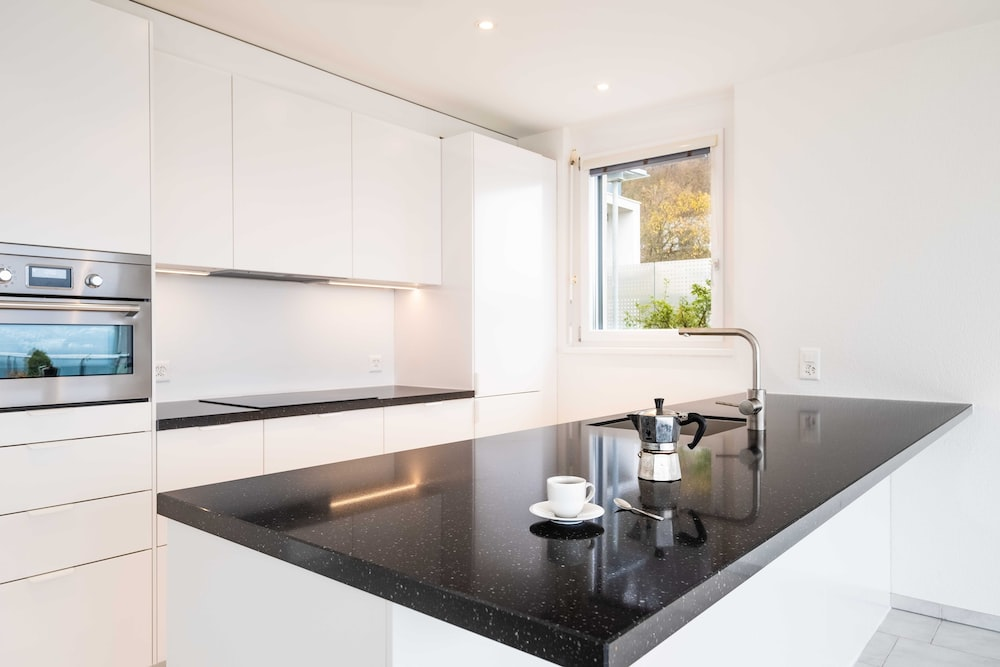 Filename: Newly-installed-countertop
Alt Text: Newly installed kitchen countertop
If you're looking for kitchen countertops that enhance the look of your kitchen and improve your home's value, we can help you out!
At Stone Express Inc., we offer various kitchen and bathroom countertop materials, such as granite countertop Naples and Quartz tops Naples.
Dial (239) 213-0555 to learn more about us and our services!