Building a house is exciting. Working with the architect and interior decorator to create designs, selecting elements from Custom Quartz countertop Naples to paint colors, is nerve-wracking and exhilarating in equal measure. One of the most stunning architectural features that add character, elegance, and style to your home is the staircase. In recent years, staircase design trends have evolved, offering builders a wide range of options to create a unique and stylish look within homes. This blog explores some of the latest staircase design trends and ideas for incorporating stone into them to create something timeless.
Statement Staircases
A statement staircase draws attention and makes a bold visual impact. These staircases typically feature unique designs, materials, and shapes. For instance, a spiral staircase made of glass can be a striking centerpiece in your home, while a floating marble staircase fastened only on one side can add an air of modern elegance.
Minimalist Staircases
If you prefer a clean and simple look, a minimalist staircase may be the right choice for you. These staircases feature sleek and clean lines with minimal detailing or ornamentation. They often use materials such as neutral-colored stones such as granite or marble, glass, or wood to create a minimalist look.
Industrial Staircases
Industrial-style staircases have been popular for a while and show no signs of going away anytime soon. These staircases feature rough, unfinished materials, such as steel, iron, or concrete. They are often left unfinished or painted with a matte black finish to highlight the natural texture of the materials used. Adding a textured granite slab on the steps can add to the raw appeal.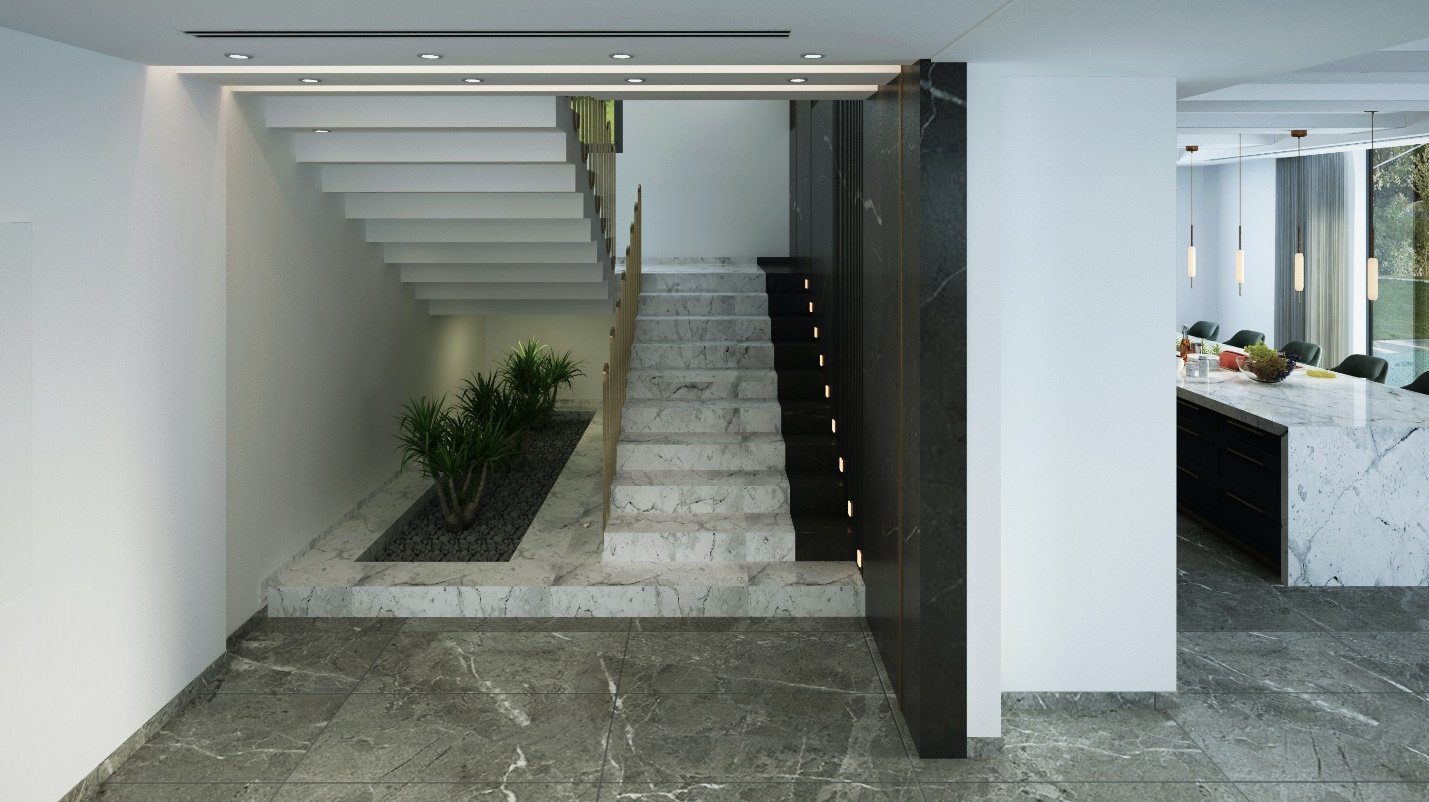 Open-Concept Staircases
Open-concept staircases are those that have no walls, creating an airy and spacious feel in your home. These staircases are often made of glass or metal to add to the modern look and feel of your home, but stone such as marble or quartz can also be incorporated for a more sophisticated feel. These are great options for areas where space is constrained.
Nature-Inspired Staircases
For a more natural and organic look, nature-inspired staircases are becoming increasingly popular in line with mid-century modern aesthetics. These staircases use materials such as wood, stone, and even living plants to create a natural look and feel in your home. For instance, a staircase made of textured granite with a rough stone planter running alongside can bring the outside in.
If you're looking to create a work of art within your home, Stone Express Inc. in Naples, FL, has an array of options for you to choose from. If stairs are not something you're currently looking at, our range of marble, granite, and quartz Custom Countertops Naples will leave you spoilt for choice. From staircases to pool copings, and shower seats to bathroom and kitchen countertops, we deliver high-quality materials and craftsmanship. Contact us to schedule a consultation or visit our showroom for more information.