Are you tired of cluttered shower spaces with bottles and toiletries scattered everywhere? It's time to get creative with your shower storage solutions. This blog will explore unique shower storage ideas that help you stay organized and add a touch of style to your bathroom.
Much like a countertop or bathroom vanity top for the sink area, these ideas will work wonders to keep your shower cubicle neat and organized.
Let's get storage savvy!
Floating Shelves
Install floating shelves on your shower walls to create extra storage space. Choose shelves made of water-resistant materials like quartz, sealed marble, or granite, which can hold your shower essentials while adding a modern and sleek look to your bathroom.
This shower storage idea works best when you place the shelves at different heights to accommodate items of various sizes.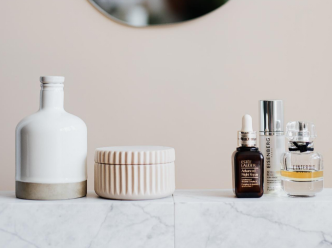 Built-In Niches
If you're planning a bathroom renovation or remodeling project, consider adding built-in niches to your full-slab shower walls. These recessed areas provide seamless and stylish storage solutions for your shower essentials.
Customize the size and number of niches to suit your needs and install them within reach for convenient access.
Shower Corner Shelves
If you're looking for a shower storage idea that's easy on the pocket, maximize the corners of your shower area by installing corner shelves. These shelves can be made of stone similar to your bathroom countertop, wall, floor, or something that contrasts with them in color or texture.
That way, you not only get storage space but also enhance the overall aesthetic of your shower.
Shower Seats with Storage
If you have enough space in your shower, consider adding a shower seat with built-in storage. This bench-of-sorts can provide a comfortable seating area while hiding storage compartments underneath. You can store towels, bath products, or even extra toiletries within easy reach.
If you're looking to implement stone shower storage ideas, it's important to consult a professional Countertop Contractor Naples to ensure proper installation and aesthetic compatibility with your existing countertops or Bathroom vanity top Naples.
At Stone Express Inc., we can guide you in choosing the right materials and help bring your unique shower storage ideas to life. Contact us for a free consultation in Naples, FL, and say goodbye to a cluttered shower space. Not only do we offer marble, quartz, and granite countertops and shelves for bathrooms, but we also have a multitude of options for custom countertops for the kitchen.
Looking to renovate your bathroom? In addition to shower shelves, why not consider shower seats and curbs too? For a full list of services, give us a call.