When it comes to designing your dream bathroom, the choice of a shower can be a pivotal decision. Among the various shower options available, a slab shower is an elegant and contemporary choice that can add a touch of luxury to your bathroom. However, picking the right slab shower for your space requires careful consideration.
In this article, we will share a list of things to consider when choosing a slab shower for your Naples home.
1. Budget
First and foremost, you should establish a budget for your slab shower project. Slab showers come in a wide range of materials and designs, and prices can vary significantly. By determining your budget upfront, you can narrow your options and ensure you don't overspend on your bathroom renovation.
2. Material
Slab showers are made from various materials, each with its unique characteristics. The most common materials used for slab showers include marble, granite, quartz, and porcelain. Marble offers timeless elegance, granite boasts durability, quartz provides versatility, and porcelain is a budget-friendly option. Think about your preferences and needs when choosing the material that best suits your bathroom.
3. Size and Space
Before selecting a slab shower, measure your bathroom space carefully. Slab showers come in different sizes, and it's essential to choose one that fits comfortably within your bathroom without overcrowding the area. Consider the location of existing fixtures like toilets and sinks to ensure proper placement.
Keep in mind that ample space around the shower is not only aesthetically pleasing but also functional. It allows for easy movement and enhances the overall flow and accessibility of your bathroom. Additionally, pay attention to the orientation of the shower door, as it should open in a way that doesn't obstruct other bathroom features or walkways. Optimizing the size and placement of your slab shower will help you create a harmonious and efficient bathroom layout that maximizes both form and function.
4. Design and Size
The design and style of your slab shower should complement the overall aesthetic of your bathroom. Slab showers come in various finishes, including polished, honed, and textured. The choice of finish can impact the look and feel of your bathroom. Polished finishes offer a sleek, glossy appearance, while honed finishes provide a matte, understated look. Textured finishes can add an element of tactile interest.
Additionally, consider the color and veining patterns of the slab to ensure it harmonizes with your bathroom's color scheme. For a classic and timeless look, you might opt for a white or neutral-colored slab with subtle veining. On the other hand, if you're aiming for a more dramatic and contemporary feel, bold veining patterns or darker hues could be the way to go.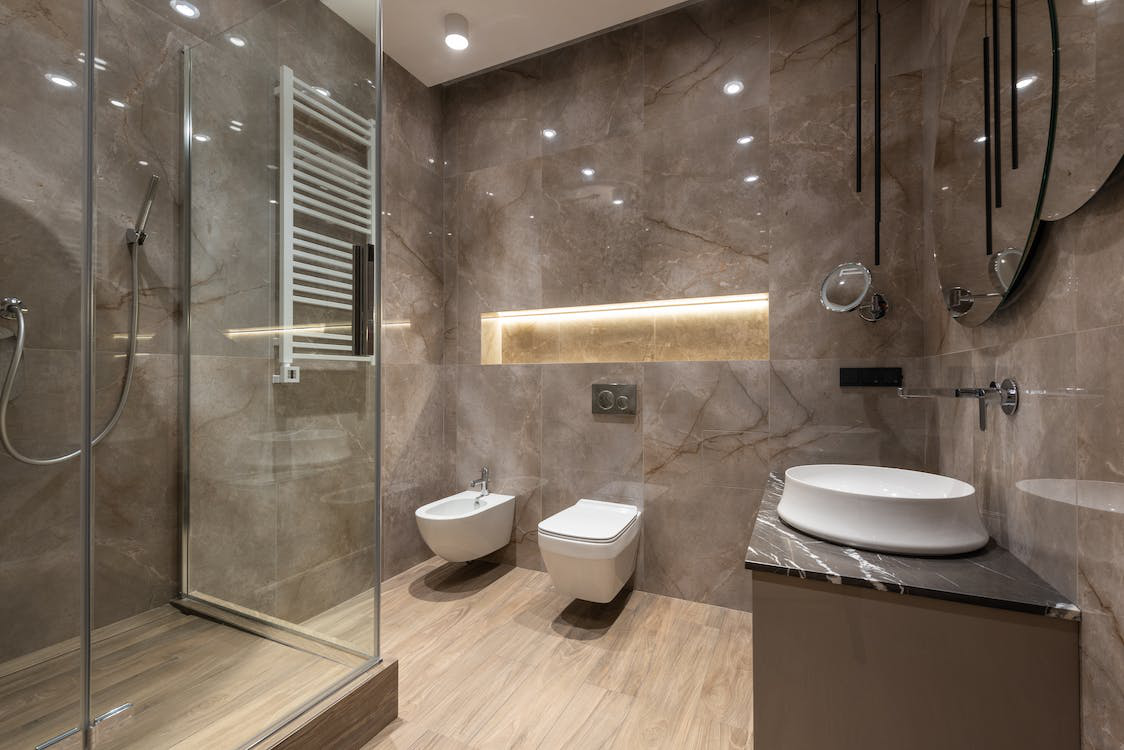 If you want to start this exciting journey of transforming your bathroom with a stunning slab shower, make sure to keep these factors in mind. And, if you're looking for high-quality slab shower options and more, don't hesitate to check out Stone Express Inc.
We offer a diverse range of Kitchen Countertop Naples, Bathroom Countertops Naples, slab showers, and more to revamp your home in Naples. With our wide selection and expert guidance, you can bring your dream bathroom to life, creating a space that's both luxurious and functional and sure to be enjoyed for years to come. Contact us today!